"In the midst of what seems a mess, in the tripping up and the stumbling down of all hopes, Jesus gives thanks? What precedes the miracle is thanksgiving, eucharisteo, and it is a Greek word with a hard meaning that is harder yet to live. Do I really want to take up this word?"
One Thousand Gifts, p. 37
It really wasn't a big mess, or a dashing of all hope, just a little scary and a bit emotional ~ but I'm learning that taking up the word eucharisteo in every moment is what brings about the transformation to joy.
We had been caravan-ing down fast highways for literally thousands of miles by the time the blue Rubbermaid container decided to loose from its bungee cord in Robert's red truck ahead of us and fly in to the air. I was actually talking to him on the phone as it happened. My 16 year old chauffeur alerted me to the certain disaster and I alerted (with a scream) Robert who never would have known about the loss of cargo otherwise.
We hit the thing head on and slowed to a stop on the left side of the highway beside the concrete dividing wall. I thought perhaps we had also stopped the container from making any more flights across the highway with our front end. But then my peripheral vision picked up a sight in my passenger side-view mirror.
Papers, red and white, fluttering, flying, falling all around.
Not underneath our bumper as I had hoped, the container had made its way across the highway to the shoulder area. As we dodged traffic and made our way to the other side of the busy road, I could see cards, gift bags, tissue paper, scarves, shoes, and receipts, but it was the blank pages of my One Thousand Gifts yet-to-be-filled-out calendar floating by that finally called up the tears. But only for a brief moment.
Tears? I thought. Haven't I learned anything?
The floating calendar pages, companion to this life-transforming, Spirit-nudging book, were reminders to me to put into practice exactly what the Lord has been so gently teaching me, modeling for me. That is, to do what He did in the face of much more grief and pain producing circumstances than flying Rubbermaid containers.
Eucharisteo. He gave thanks.
Thank you, Lord, that it didn't hit the windshield while my 16 year old was driving.
Thank you for preventing a pile-up as we stopped on the highway.
Thank you, Lord that no one was hurt, and no collisions occurred among other cars behind us.
Thank you that in 4000+ miles of driving, this (THIS!) was our only incident.
Thank you for printers that can easily produce new calendars.
Thank you that it was mostly receipts, papers, gift wrap, and not my teapot or computer or...
Thank you for protecting me as I retrieved Sara's hand-knit cowl, and Kory's gift-scarf from Turkey off of the highway.
Thank you for the duct tape that held many other items in the container.
Thank you for an opportunity to choose the bright side, a light heart over a grave attitude.
Thank you for this testimony of transformation in my heart ~ the joy that I've long prayed for.
"Long, I am woman who speaks but one language, the language of the fall - discontentment and self-condemnation, the critical eye and the never satisfied....but eucharisteo - it's the word Jesus whispered when death prowled close and His anguish trickled down bloody. He took the bread, even the bread of death, and gave thanks." p. 46
There's a fear in this learning of eucharisteo, though. The fear, the knowledge that it gets much, much worse than flying Rubbermaids on busy highways in this life. Still, I want to learn it. I want to learn Him.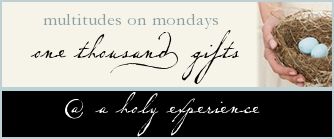 My grace gifts for March...
1. a missionary slide show by Kory (3pm)
2. a husband doing laundry (3pm)
3. hot tea in a new Anthropologie tea cup (thanks, Yvette!) (3pm)
4. freshly mowed St. Augustine grass (green)
5. table umbrellas at The Oasis (green)
6. a margarita at sunset (green)
7. new, white, spring, sweater (wore)
8. my wedding ring (wore)
9. new bracelets (wore)
10. teenage attitudes and emotions (hard to give thanks for)
11. costly remodels (hard to give thanks for)
12. rain and fog (hard to give thanks for)
13. a bright Big Dipper and shining planets (found)
14. sunsets shared with kids on a warm restaurant deck (found)
15. artistic earrings (found)
16. Ugandan paper bead bracelets (broken)
17. a husband bent toward prayer (bent)
18. worshiping with Mike, Wende, Jack, Kelly, and Melinda (beautiful)
19. fresh, gluten-free stir fry on I-10 in Florida (in the kitchen)
20. our Sheraton suite kitchen (in the kitchen)
21. gracious, kind chef at our African buffet (in the kitchen)
22. Pandora radio (loud)
23. Rock 'N Roller Coaster (loud)
24. Beauty and the Beast on stage (loud)
25. rocking chairs around a fire pit (carved)
26. sculpted Disney figures in ivy and flowers (carved)
27. the time for sabbatical (carved)
28. freedom (in Christ)
29. transformation (in Christ)
30. hope (in Christ)
31.Surprised By Joy ~ C.S. Lewis (read)
32. Letter to the Ephesians ~ Paul (read)
33. Redbook parenting article (read)
34. burritos on a sunny patio in Florida (wind)
35. jacuzzi bath tub in master suite (water)
36. fluffy white clouds against a bright blue sky (white)
37. intact tires for cross country driving (round)
38. roller coasters (round)
39. wedding ring (round)
40. rest (found in silence)
41. voice of God (found in silence)
42. adjusted perspective (found in silence)
43. filled jars (given away)
44. hospitality (given away)
45. a smile (given away)
46. flying, exploding Rubbermaid containers (hard eucharisteos)
47. facing debt (hard eucharisteos)
48. reality and routine (hard eucharisteos)
49. a bathroom makeover (turned)
50. sheets on bed and turned down by Lois (folded)
51. new Emmaus print (hung)
52. worship with Mercyhouse (red)
53. tomatoes and other stocked groceries for our return (red)
54. fresh flowers to greet us (red)
55. potato soup ~ thanks, Sarah! (eaten)
56. corned beef and cabbage ~ thanks again, Sarah!) (eaten)
57. Romans 8: 1-4 ~ thanks, Josh (eaten)
58. Sarah A. impersonating Tim Hawkins (made me laugh)
59. little Owen (made me laugh)
60. showing Disney "scared" photos (made me laugh)
61. popcorn at the movie (salty)
62. an opportunity to encourage and comfort Kayla (sweet)
63. 1000 Gifts flip calendar from Sara (just right)
64. "...that they may see your good works and glorify your Father who is in heaven." Matt. 5:16 (in His Word)
65. "Blessed are those who hunger and thirst for righteousness, for they shall be satisfied." Matt. 5: 6 (in His Word)
66. "And who of you by being worried can add a single hour to his life?" Matt. 6:27 (in his Word)
67. dinner with Izckra ~ her passion and perseverance (gifts found in women)
68. lunch with Betsy ~ her joy and faith (gifts found in women)
69. weekend with Romy ~ her love and generosity (gifts found in women)
70. "We missed you." (spoken ~ by church and CC friends)
71. "I love you." (spoken ~ by Romy and Robert)
72. "Kayla, you are getting to be so beautiful." (spoken ~ by Vicky J.)
73. "Thou my best thought, by day or by night..." (sung)
74. Martin's handwritten sermon ~ set mind on Spirit (written)
75. New Jerusalem painting from Israel from Cindy (painted)
76. maple syrup (almost gone)
77. Luxemburgerli from Switzerland! (almost gone)
78. welcome home food in frig and pantry (almost gone)
79. Izckra's life (redeemed)
80. relating with a child after regret (redeemed)
81. a heart that knows joy and healing ~ mine! (redeemed)
82. security and sanctification of marriage (entwined)
83. my life tied with others with the body of Christ (entwined)
84. Eucharisteo banners (entwined)
85. "Daughter, take courage; your faith has made you well." Matt. 9:22 (His promises)
86. "For it is not you who speak, but it is the Spirit of your Father who speaks in you." Matt. 10:20 (His promises)
87. "So do not fear; you are more valuable than many sparrows." Matt. 10:31 (His promises)
88. heart thoughts of a teen (uncovered)
89. my real standing in a relationship (uncovered)
90. returns to intimacy (uncovered)
91. 80's music at the roller skating rink (heard)
92. Kayla's hand while skating (held)
93. financial covering (hoped for)
And even more...
94. Disney World consultants and advisers (Thanks, Anne!)
95. beautiful and spacious Sheraton suite
96. tucking in teens at bedtime
97. a son that gives gifts to others
98. Choosing To See by Mary Beth Chapman ~ blessing to Kayla, Kory, and me
99. Kerbey Lane two days in a row with two different college friends
100. "Magical Moment" front row parking at Animal Kingdom
101. Sunshine for great Disney days
102. Rain for short ride lines and repeated rides!
103. funny blogs, fashion blogs, food blogs
104. being keeper of my home again
105. Lois, Alie, and Zeena cleaning and prepping house for our return
106. spring seeds and potting soil
107. hibachi grill with friends (Ryan and Christie!) & catching zucchini in my mouth
108. reunions in Target
109. Bible and iced coffee on the swing in the sun
110. Book of Matthew and Spirit-led prayer for a sister for Lent
111. a kind and listening physician and good health
112. three cute kids in my house